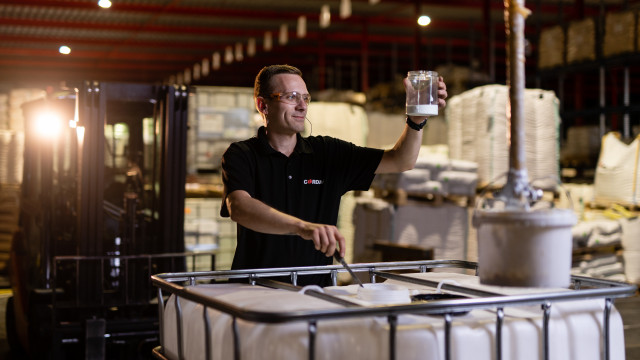 Products & Services
We would like to take you into the world of our industrial adhesives.
Cordial is a reliable partner for a wide range of adhesives and supplies mainly two product lines:
Cordifix (liquid glues)
Kartonol (powder glues)
Cordifix is a product group of water-based liquid adhesives based on PVAc (polyvinyl acetate), dextrin (modified starch) and PVOH (polyvinyl alcohol). Our Cordifix products are supplied in quantities ranging from 1,000 litres IBC containers to 25 tonnes in tankers.
With the Kartonol product group, Cordial is the market leader in specific powder adhesives. These powders, based on dextrin or PVOH, can be used as an adhesive when mixed with water. One of Kartonol's advantages is its limited transport volume. The powdered adhesives are offered worldwide in bags, big bags and bulk transport. Our customers mix the specific adhesive with water on site according to a dissolution recipe provided by Cordial.
Our products are applied in the following segments of the paper and board industry
Cordial beschikt over een uniek team van Technical Sales Engineers (TSE). Ons TSE-team is grote kennisdrager op het gebied van applicaties, substraten en lijmen en is in staat om on-site, samen met onze klanten, alle specifieke wensen en omstandigheden om te zetten naar een perfect functionerende lijm.
Daarnaast volgen wij alle ontwikkelingen op het gebied van applicaties, papierkwaliteiten, milieueisen en wet- en regelgeving op de voet. Zo spelen we altijd in op de nieuwste uitdagingen in de lijmindustrie.
Lees meer over ons:
Contact
Wil je meer weten?
Neem contact op via onderstaand contactformulier:
Laat hieronder jouw gegevens achter en Cordial zal binnen twee werkdagen contact opnemen.